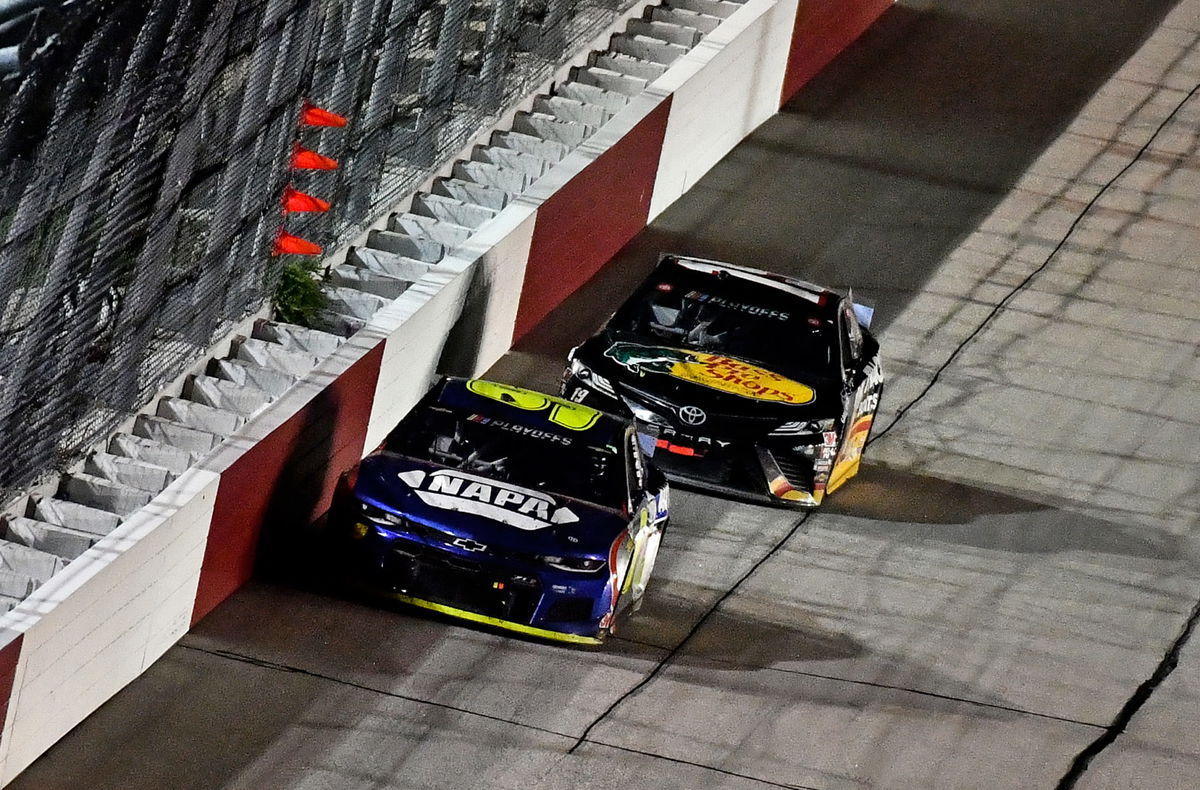 The Cook Out Southern 500 at Darlington Raceway was decided by a race between two cars: Chase Elliott and Martin Truex Jr.
Unfortunately for both of the night's strong drivers, their night did not end with them in the lead.
Truex Jr. attempted a slide job on Elliott's No. 9 in Turn 1 while battling nose-to-tail for the lead in the closing laps. This is when the No. 19 Toyota collided with Elliott's nose, sending him and the leader into the outside wall.
Having started in first place, Truex was forced to pit after cutting a right-front tire on his Joe Gibbs Racing Toyota within three laps. He came in 22nd place, one lap down.
"Just not enough room there for the both of us," Truex said of the contact. "I thought I had enough of a run to clear him. I think it was close, obviously. I thought I had enough momentum and distance on him that he was going to let me in there. I didn't expect him to be on my right-rear corner.
"I was committed. Once I figured he was still there, there was nothing I could do."
After running off-pace for the final 15 laps, Elliott finished for 20th place.
"He had a run on me there coming off of Turn 4," Elliott said. "He just cleared himself going into Turn 1. He was close, but he wasn't all the way clear.
"I ran the bottom in [Turns] 3,4 just seeing if there was anything left down there. That's what gave him the run. Just slid up into my left-front it felt like. On we went."
Truex and Elliott were obviously the top two drivers of the night, leading 311 of 367 laps combined. Truex made the move after a long chase during the race's last restart with 41 laps remaining.
"It's Darlington and typically you don't want to go in side-by-side," Truex said. "I felt like I had enough of a run and enough space there that the last foot or so he was going to understand that if I was committed, we both weren't going to make it. Typically, here that's kind of how you race. If a guy gets a run on you and he's just about got you cleared, you have to give that last little bit.
"Now obviously, the end of the race, probably the pass for the win, he wanted to drive it on in there and I was committed to being clear and there was no way we were both going to make the corners. Basically, when I made up my mind and I was driving it in there and then he drove in on my right-rear quarter, there was no possible way that we both weren't crashing. That's what happened."
For the second year in a row, Elliott's potential triumph at Darlington ended with a wrecked racecar. This one, on the other hand, occurs during the playoffs, adding to the sting of the loss.
"I hate it," Elliott said. "Obviously we had a fast NAPA Camaro, fast enough to contend. We needed a little pace there to extend our lead instead of playing defense. Regardless, I thought we were in a good spot."
Truex is 16 points ahead of the cutline as the sport heads to Richmond Raceway for Race 2 of the first round of the playoffs. Elliott is 10 points ahead.
The uniforms of NASCAR racing drivers are currently available at the following websites for a reasonable price: