Beyond his title as a KTM Test Rider and three-time World Champion, the Austrian manufacturer's impact is growing
Dani Pedrosa's status as a KTM Test Rider has grown much beyond his title as he enters his fourth season. While attempting to improve on the RC16 on a regular basis, he must also serve as a positive role model for the younger riders at the Austrian manufacturer, particularly Tech3's rookie duo.
Raul Fernandez and Remy Gardner have both praised the influence of the three-time World Champion during three days of Shakedown Testing in Sepang as they continue their adaption to premier class machinery. They realize the importance of Pedrosa's perspective as well, with Fernandez confessing that he is hanging on every word he says.
"I'm really happy with these three days. In the end, we were focused on understanding the bike style and everything. Anyways we did an incredible job. Day by day I improved, I understood the bike a bit better, in general, we have a good bike for this season. I spoke with Dani Pedrosa and he helped me in so many aspects. His opinion is really important, and I can improve from him."
Gardner, despite his tight schedule, is thrilled to be able to share information with the 31-time MotoGPTM race winner and even pick up some hints from the little samurai.
"[Dani] is busy testing but the good thing is we have his data so it's good to compare the data. He gave me a few tips yesterday which was nice. He's mostly busy testing new parts though."
The switch to MotoGPTM is always difficult, and Fernandez admits that he had to alter his pre-season preparations, focusing more on gym conditioning in order to better manage the larger motorcycles. The Spanish rookie, who admitted to being physically "destroyed" following the Jerez Test in November, is in better shape for the 2022 season's first race, and having his childhood hero working alongside him as a confidant helps.
"It's like a dream [working with Dani]. When I was younger, I remember when I was in Jerez watching the MotoGP race and he won, and I'll never forget this moment. Now it is really special to have him in the box, it's like a dream. For me, he's a super great rider, whenever I have a problem, I go to him, I speak to him and I listen to him. His opinion is really important. When he gives me some advice, it's nice because then I always improve."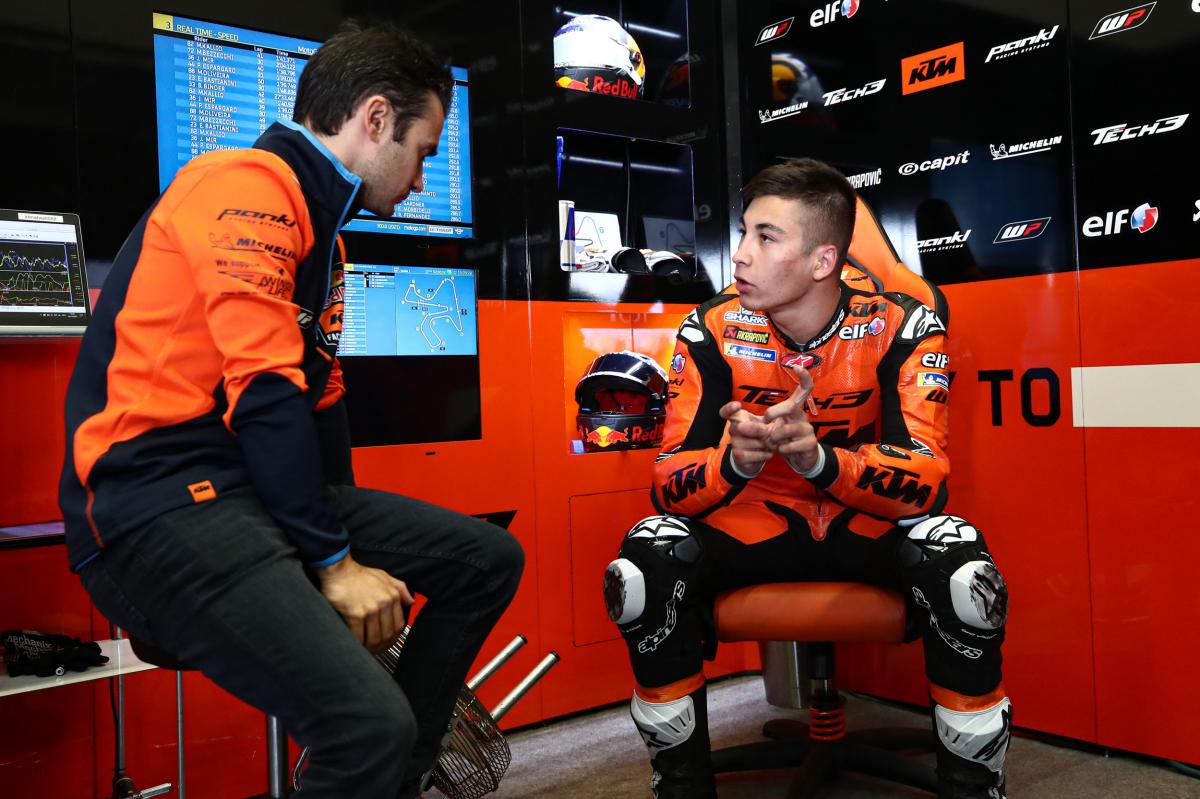 "It's really important because when you don't know the bike well, it's difficult. Sepang is a really difficult track. I think the first day, I didn't know the line, I was lost. When you don't know the bike or the track, it's really difficult. With Dani, we speak a bit more general about the bike. We don't speak about specific points of the bike. Sometimes, at this track he won two races, I ask him if one turn I don't know well, I'll go to him and ask what he would do, but we don't speak specifics about the bike."
The journey of Tech3's rookie combo with Pedrosa is just getting started, with all three scheduled to return to the track this weekend for the Official Malaysia Test, which starts on Saturday, February 6th. motogp.com will keep you up to date on all of the action, as well as the latest interviews and stories from Sepang.
The uniforms of MOTOGP racing drivers are currently available at the following websites for a reasonable price: