What began as a solid season, with Ken Roczen taking an early lead in the points standings, has quickly turned into a six-race race for championship points. After leading the Monster Energy AMA Supercross points title for the majority of the season, the Team Honda HRC No. 94 rider is now 12 points behind the 2019 450SX champion Cooper Webb.
"He's on it right now," Roczen stated about Webb. "I feel like I got a better start tonight, but I wasn't good enough (for the win) tonight. Last weekend, I got a little screwed on the start. I felt like I was riding decent, but I'm just trying to keep my head up. That's all I can do on a weekly basis. There's some more races to go, so we'll go back at it again on Saturday and try again."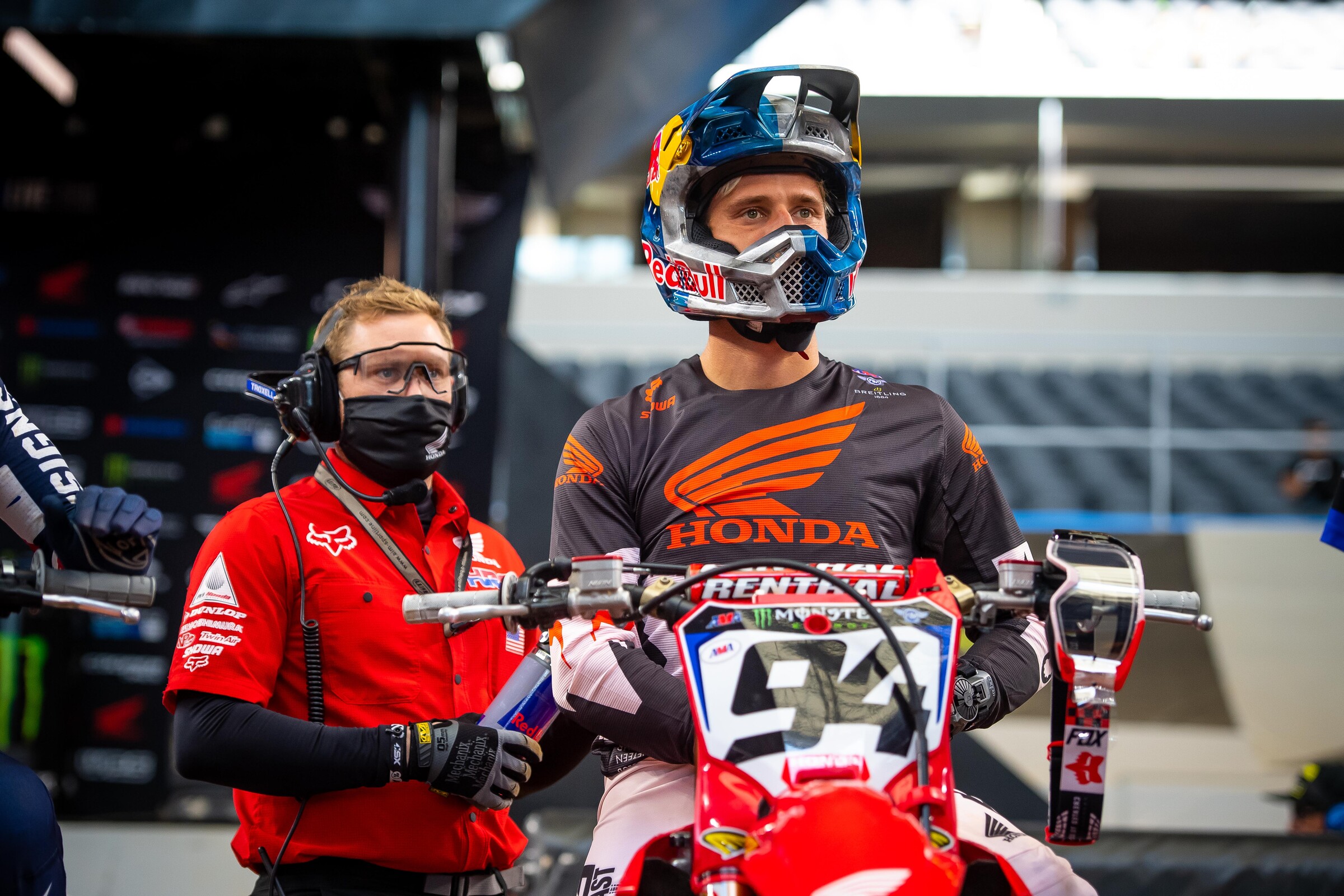 When Roczen received a four-point penalty for disobeying a medical flag in Houston 2, it proved to be a difficult start. Later that week, a controversial incident between himself and lapped rider Dean Wilson allowed Webb to pass on the final lap and win the Houston 3, resulting in a three-point swing. These seven points are becoming increasingly important in the second half of the championship race.
"It doesn't matter at this point," Roczen shared. "It's in the past, and it happened. Those are valuable points. The whole Dean (Wilson) thing was just a lapper and didn't work out in my favor, and I still disagree with the AMA docking me those points, but what am I going to do about it now? In general, the three Houston rounds bit me bad in that way, but I didn't want to focus on that and get so stuck on it and ruin a whole season getting hung up on that. I've had the red plate for more rounds than honestly I've ever had my life before.
The eight-year veteran has now finished on the podium for the first time since Orlando 1: 31 days ago at Arlington 2. For the second time in 2021, he has been knocked off the point lead due to that out gap for the championship contender.
"I feel like the only bad race I've had was last weekend," said Roczen. "Even before at Daytona, I just got shuffled back and not being on the podium. Points can turn around real quick. He was winning, and I was sixth or seventh. We've still got six rounds to go, I just want to focus on myself. The red plate is a nice little something to have on the bike, but it's the end that counts. I'm keeping the dream alive.
"(Webb's) chipping away right now and winning a lot, but I just want to go out there and do what I love and see if I can get back closer at least so we can make it a good battle all the way to the end."
With just six rounds left, Roczen is focused on the here and now, keeping his learning hat on, and taking away the positives he can while hunting down his first career Supercross 450 championship.
"I'm holding onto the positive, and just continuing to chip away to look at the now and what's right ahead of me rather than focus on what's back there."
Roczen won all three races at Lucas Oil Stadium in Indianapolis earlier this year, so Webb will try to do the same in Arlington this Saturday night at AT&T Stadium.
The uniforms of MOTOCROSS racing drivers are currently available at the following websites for a reasonable price: