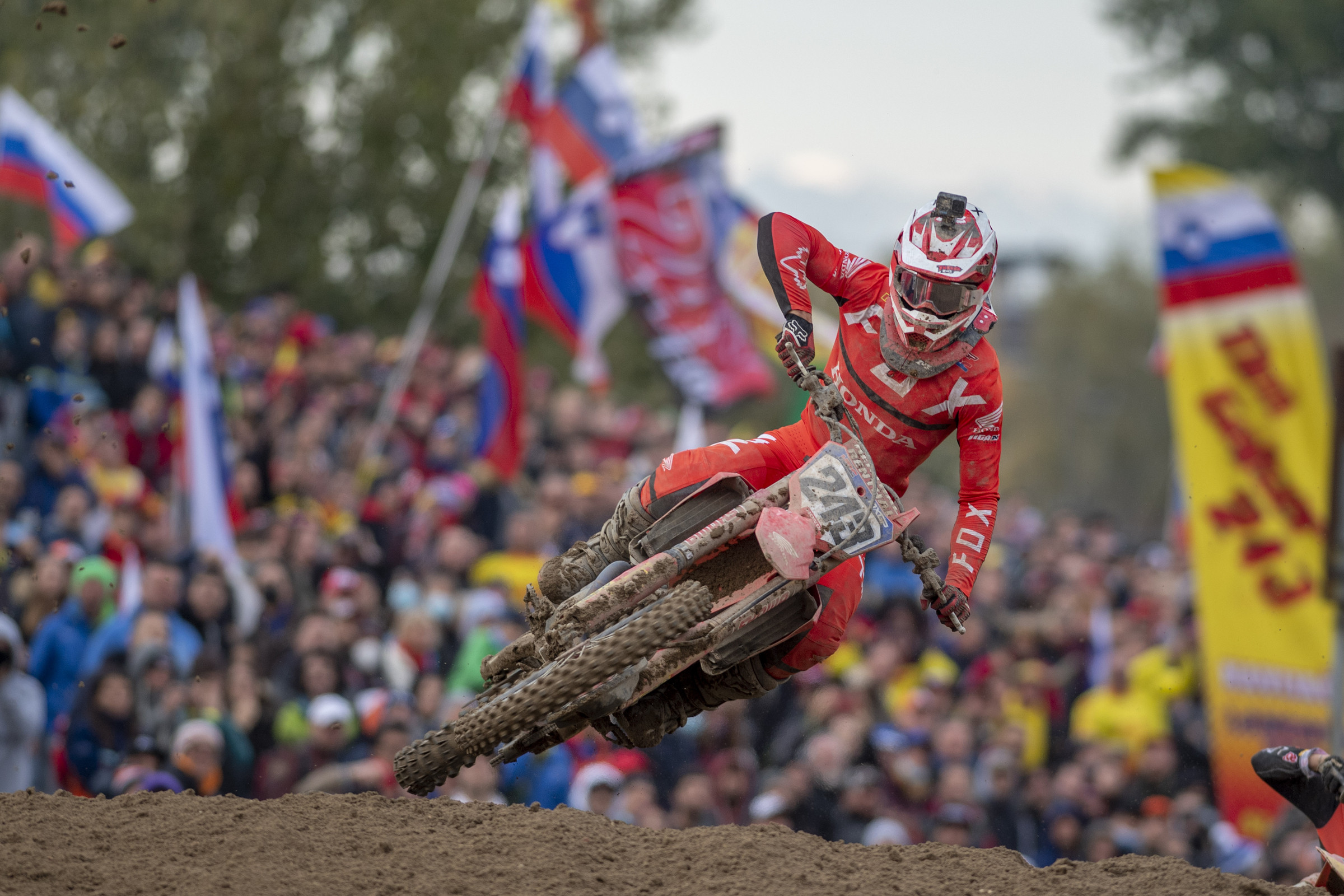 Tim Gajser of Team HRC put up a strong performance in both motos at the MXGP of Lombardia, finishing third in both. Unfortunately, a five-place penalty in race one decreased his score to eight-three, as he was severely judged to have gained an advantage after hitting the track boundaries on the first corner.
Gajser was in second place, just one point behind the leader, heading into the Mantova double-header — the final two rounds of the tough 2021 MXGP championship – as he tried to win his third global title in a row. Gajser had a decent platform to attack this sandy track after qualifying sixth, but his chances of winning the race were all but lost after he was knocked over the outside berm in the first corner. He thought he was in sixth position at the time, so he did his best to rejoin the action at the safest area of the track, in the same position, in order to follow the rules. However, the decision was made that he did gain places and as such, he was given a five-position penalty.
Gajser fought through to third place, trying to limit the damage as much as possible, but the penalty changed a third place and 20 points into an eighth place and 13 points, having enormous ramifications on the title competition, which is the closest it has been in decades.
The reigning world champion did his best to put the moto behind him, but predictably, he wasn't aggressive enough in the first turn, and had to fight his way through to seventh by the time they crossed for the first lap. Using the speed that we've come to expect from the #243, he fought his way through to third position at the checkered flag, displaying more of the Slovenian's battling spirit.
Gajser is 15 points behind the leader with only two motos remaining in the MXGP season, but he will fight to the very finish, with the final round taking place on Wednesday, November 10th.
Several inspired by MOTOGP racing drivers are currently available at the following websites for a reasonable price: