Daniel Ricciardo says it was just a question of time before Max Verstappen won a World Title after racing against him at Red Bull.
Based on the contentious finale to the 2021 season, Daniel Ricciardo does not believe Max Verstappen is unworthy of being crowned World Champion.
During their stint as Red Bull partners from 2016 to 2018, the Australian and Verstappen were frequently on equal footing. During their first two seasons together, Ricciardo stayed ahead of Verstappen in the rankings, but at the end of the 2018 season, it was Max who finished first.
"Yes, I'm very much a World Champion too!" Ricciardo quipped to the media, when asked if being able to race a future World Champion so closely means he perceives his own skills higher.
"I don't have the bonus, or the big trophy but I can tell you…"
Ricciardo and Verstappen "pushed each other to a high level"
On a serious note, given the close clashes he had with Verstappen, Ricciardo admits he was not astonished when the Dutchman finally won the championship.
"Being teammates with Max, I knew that we were pushing each other to a pretty high level," the McLaren driver explained.
"I knew that, whilst we were teammates, [even though] we weren't World Champion[s], I felt like, [with] the way we were driving, [it] could have given us the world title, in some of those years. At least one.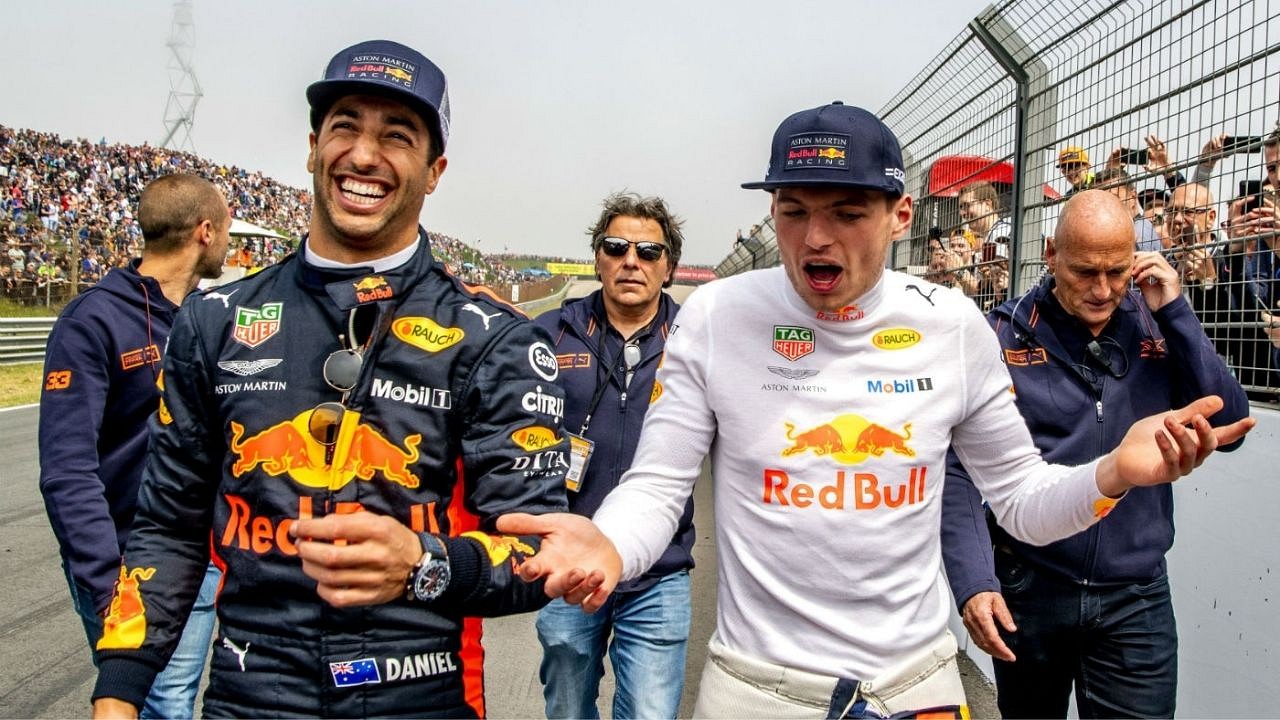 "So to see him do it after, for me, it's not a surprise. For sure, it's nice for me to know that we had a pretty close battle for those years [that] we were teammates.
"But I didn't really need to see him win the title to show that to myself. I feel like I really [have] felt that or known that for a while.
"It was kind of a matter of time for him to get a title, for sure."
Both Hamilton and Verstappen "truly deserved a title"
In the controversial final laps of the Abu Dhabi Grand Prix, Verstappen won the title from Lewis Hamilton, but Ricciardo believes the Red Bull driver deserved to win regardless of how it was determined.
"That was kind of, in a way, the shame with [what happened in Abu Dhabi]," Ricciardo said.
"There was always going to be a winner and a loser last year, no matter how the last race ended, even if it was a boring last lap finish.
"But they both truly deserved a title. They've both done phenomenal races, they both come back, and so someone was always going to lose out, I guess.
"Obviously there's the Lewis side, but there shouldn't be a 'Max doesn't deserve it' side, because he absolutely also deserved it."
Several uniforms inspired by F1 racing drivers are currently available at the following websites for a reasonable price:
Abu Dhabi, F1, F1 2022, Formula 1, Grand Prix, Hamilton, Lewis Hamilton, Mercedes, Max Verstappen, Red Bull, Daniel Ricciardo, McLaren