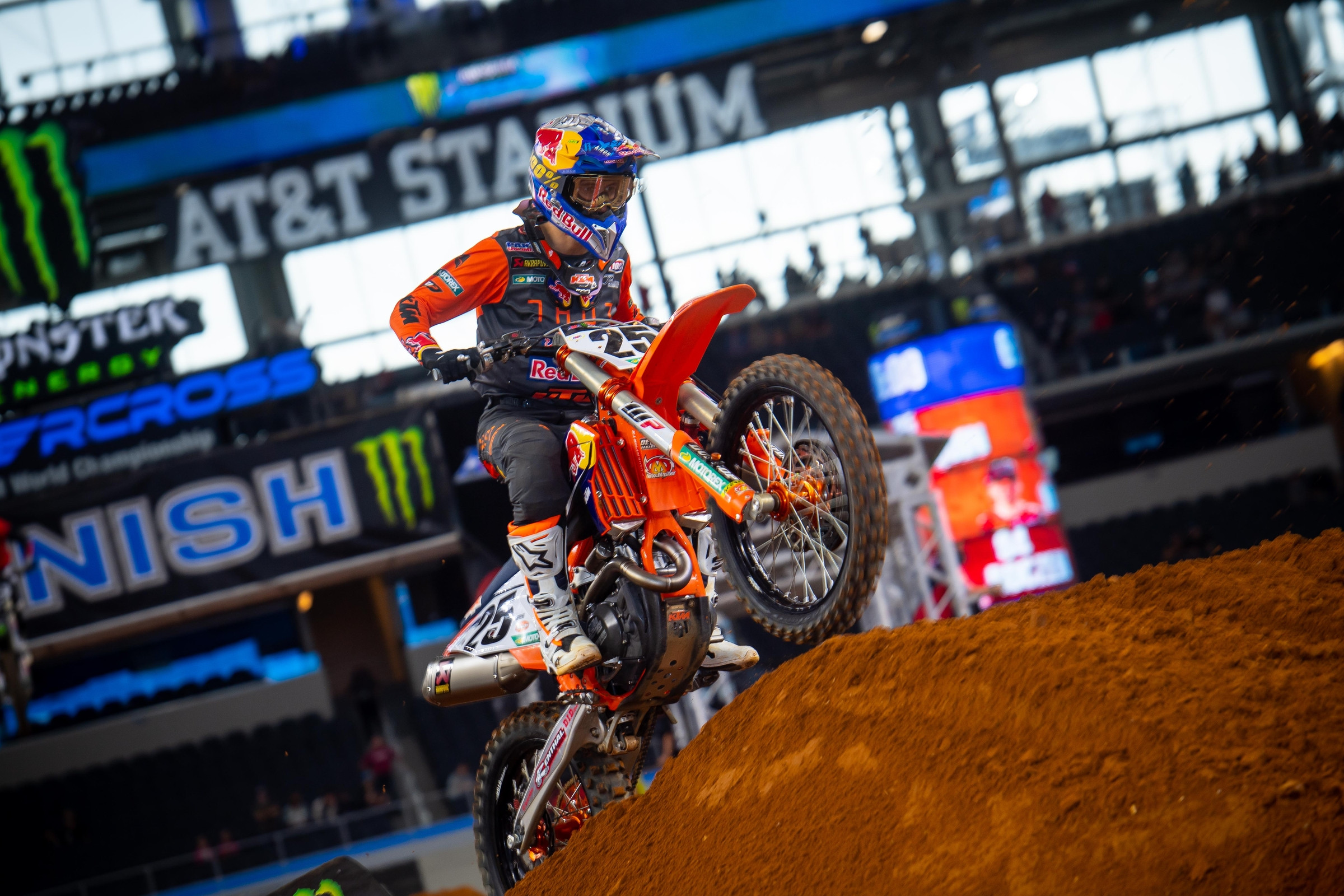 Marvin Musquin of Red Bull KTM Factory Racing will miss Arlington 2 after a wild accident in the Arlington 1 race on Saturday night. He will not compete in Tuesday night's race due to a concussion and other issues.
"Our day in Arlington started really good with grabbing the pole at practice," Musquin stated on social media. "In the Heat race while I was running in 2nd, I hit neutral on an on/off jump and went over the bar. Got a concussion, a few stitches on my arm and an overall really sore body."
The Frenchman is on his fifth season in the Monster Energy AMA Supercross 450 class, and he finished second in the 2018 points standings for the first time in his career. He has two podium finishes under his belt, including a second place finish in Orlando 2 last month.
After no film was captured or posted by NBC Sports, many fans worried if he would be allowed to start Tuesday night's race. However, an unknown fan inside AT&T Stadium expressed his thoughts with MX Vice's Lewis Phillips.
Musquin announced on Tuesday morning that he would not compete in Arlington 2 because to the concussion protocol set by the Alpinestars Medical Clinic team.
"Hi everyone, I had a big crash on Saturday night as many of you already know," Musquin posted on Instagram. "I have been very lucky to get up in one piece, really sore but nothing broken. I did require a few stitches but nothing bad. But I did get a concussion and I have to follow the concussion protocol that is in place with the Alpinestars Medical Clinic in order to get released to go back to racing. This protocol takes a minimum of a couple days, and unfortunately it is impossible to get a release to race for today's round.
"Our goal is to follow every step of the protocol to be rechecked on Friday and we hope I can get cleared to race Saturday. Until then I am working on my recovery."
The uniforms of MOTOCROSS racing drivers are currently available at the following websites for a reasonable price: