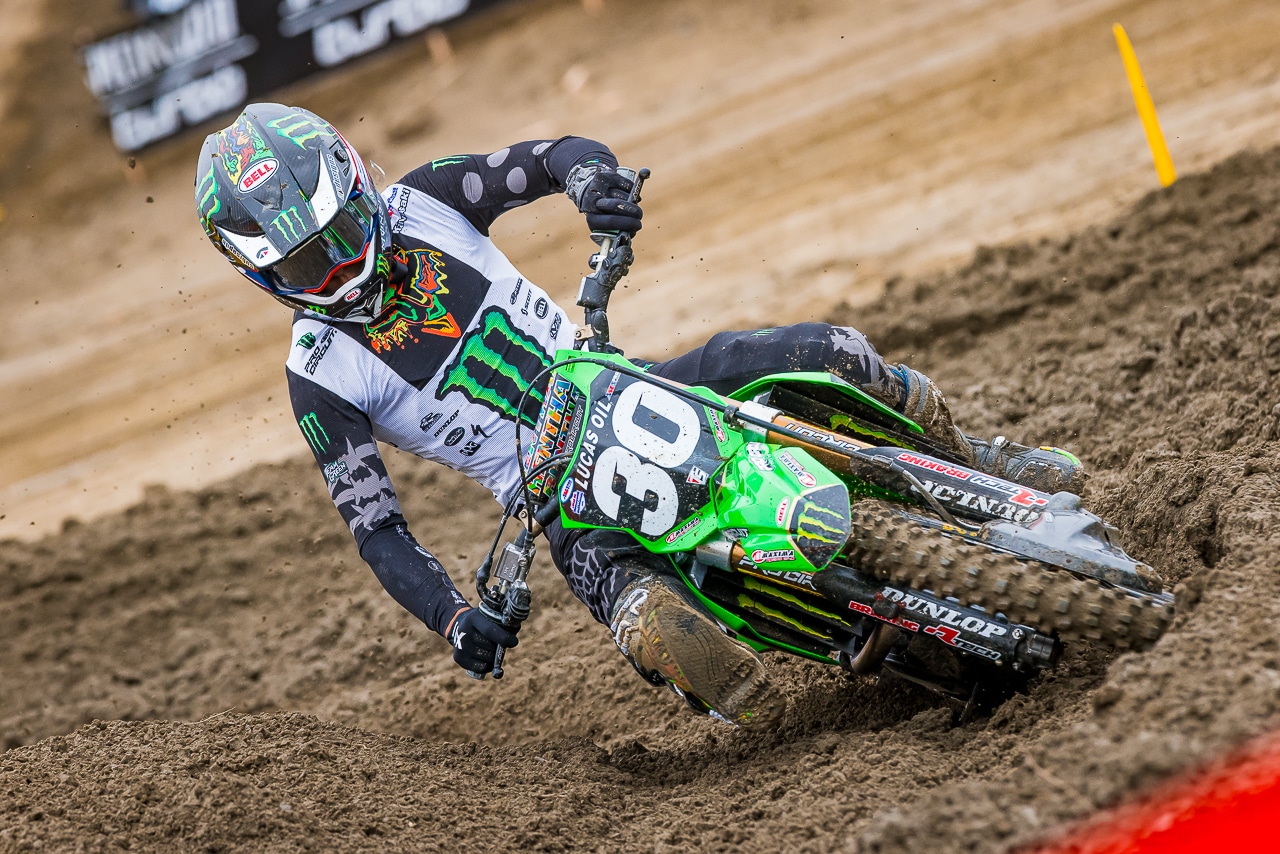 Shimoda, a Monster Energy/Pro Circuit/Kawasaki rider in the 250SX class, showed he can stay consistent despite demanding track conditions by qualifying fourth fastest overall aboard his KXTM250.
Shimoda found himself in second place after the opening 250SX heat race, behind the current 250SX Eastern Regional points leader. Shimoda was the first 250SX rider to triple out of the final rhythm section before the finish line jump, finishing in second position.
The stage was set for Shimoda to have another solid night as the field for the 250SX Main Event formed. The No. 30 car got out to a sixth-place start when the gates opened, but moved up to fifth in the first laps. The Japanese rider was involved in a three-way race for fourth place as the main event progressed. Shimoda uncorked a fantastic triple at the end of the rhythm section before Turn 3 to move into fourth place, determined to make the pass. Shimoda then charged his way into third place, but he ran out of time and finished fourth.
Shimoda's fourth-place performance on Saturday was his seventh top-five finish of the season, keeping the No. 30 KX250 rider in third place in the 250SX Eastern Regional Championship. Shimoda hands the baton to his 250SX teammates Cameron McAdoo, Jordon Smith, and Seth Hammaker, who will all compete in the 250SX Western Regional Championship next weekend in Florida.
Jo Shimoda: We had another solid day today as a team. Track conditions were rough at the start, but I had no issues finding traction and qualified in fourth aboard my KX250. I finished my heat race in second, which I'm happy about. The main event didn't go as planned as I started in sixth, and by the time I made the pass for fourth, the gap to third was too much for me to overcome. We will take the next few weeks to continue improving on the little things that will help put us at the top step of the podium when we return to racing in late April. I want to wish all of my Monster Energy/Pro Circuit/Kawasaki teammates the best of luck next weekend. I will be cheering them on from home!
The uniforms of MOTOCROSS racing drivers are currently available at the following websites for a reasonable price: